Ganz clinic (Austria)
I'm Luca's mom and would like to share my story in the hope it will help others.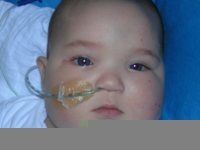 Luca was born with a rare chromosome disorder which resulted in him having a heart defect. He was ng fed from birth to 15 months. His heart defect was repaired when he was 5 months old, but we were unable to wean him off the ng tube. Luca suffered from mild reflux. When he was about a year old Luca's paediatrician suggested Luca have a gastrostomy. He had all the various tests to ascertain how bad his reflux was, when it was found he had mild to moderate reflux with possible aspiration, they suggested having a fundoplication along with the gastrostomy.
I wasn't happy about this, Luca had already undergone 2 major surgeries before he was one, and I didn't feel right putting him through all that again. Although Luca wouldn't eat, i felt he could eat as the few times he'd shown interest he appeared to swallow etc fine. I did some research and found a clinic in Austria that specialises in weaning children off feeding tubes, their theory is the child must experience hunger in order to want to eat. My dietitian wouldn't allow us to cut back on one milk feed until Luca was eating a yogurt, of course, that never happened. We tried taking the tube out for 24 hours but Luca didn't eat… i now know why, we were so paranoid about fluids etc we were offering him too often and he got his back up. I felt i needed medical supervision and the therapy luca was receiving in the UK wasn't working for him, this was our last hope before we went for the gastrostomy.
I contacted the professor by email and she booked us in for 2 month's later. It is possible to claim the money using form E112 on the NHS, but we were told it could take anything from 6 weeks to 6 months and even then we weren't guaranteed a 'yes'. We decided to raise the money ourselves and go
it alone. We arranged to stay as outpatients which is the cheaper option. It costs around ?150/day for the clinic, then you have to pay for external accommodation. We arrived in Graz, Austria on the Sunday. First thing Monday morning we met with the professor. She asked us about Luca's experiences in more detail and observed him. We decided that when Luca next pulled his tube out, we would leave it out. My husband and I didn't take any spare tubes as we felt that would be admitting defeat. That day we had our first speilessen (play picnic). A room is prepared with sheeting on the floor and a trolley's wheeled in with all kinds of food, all arranged on doll's cutlery. The children were allowed to play with the food and we weren't to get involved at all. Needless to say it was chaos and very messy!
We cut luca's milk feeds by half, the next day he pulled his tube out and it's been out ever since. Luca started accepting food pretty much immediately, from being totally food aversive and defensive, to opening his mouth and eating! We couldn't believe it. We were told not to offer Luca food unless he
gestured for it or wanted it. His tongue control wasn't great due to lack of experience so he didn't manage to eat as much as he would've liked. After a couple of days he started showing frustrations etc and was quite weak. The professor suggested we offer him a bottle while he was sleeping. We didn't hold much hope for this as we were told Luca had lost his sucking reflex. Well, he took the bottle and sucked beautifully! After that moment he went from strength to strength. We fed him chocolate and vanilla custard and he drank high calorie milk from the bottle. Luca's reflux also stopped. I know
now the ng tube was causing it. Every week day there was the play picnic and Luca had various therapies, speech therapy, o/t and physio.He dropped 1kg in weight but by the 2nd week had started to gain already. The professor said when a child moves from tube to oral feeding it can take 2-3 months to find their 'true' weight.Tube feeding is artificial, so therefore their weight is too. We left after 2 weeks with a boy who was eating orally and was happier than ever!
Soon after we came back to London Luca developed pneumonia. He was in hospital for a week. His speech therapist was concerned that he was aspirating, they did an x-ray and Luca had no food on his lungs, it was just bad luck. He dropped 1.5kg's at this time. Since then though he's been totally healthy and fine. He is 22 months and his weight is now 11.7kg. He eats weetabix, all fruit, all meat and all veg, pasta, bread etc.
In fact, there's nothing Luca doesn't eat!
Austria taught us to trust our child. They'll eat when they're hungry and drink when they're thirsty. It's
in their genetic make-up to do that. As a parent of a tube fed child, calories and weight are drummed into you to such an extent, letting go of all that was quite difficult but we've done it. As it stands now, Luca has only been eating orally since November last year. He is now taking his spoon to his mouth, finger feeding and chewing. Our dietitian has discharged us because she's so pleased with his progress.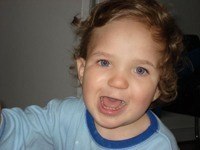 I'm so relieved we went to Austria as the gastrostomy and fundo would've been the wrong decision. I
realise that some children need these operations and do need to be tube fed for medical reasons, this is really written for those who have struggled to wean their children off tubes when they should be eating orally. I have blogged all the Austria experiences, please feel free to look.
www.lucapoerio.blogspot.com. Austria is archived, we went end of October 2006. I was so impressed with Austria I arranged for the professor to come to the UK in November 2007 and present her case at Great Ormond Street Hospital. She has been researching tube feeding for 15 years and will be including her research in the medical journal.
Thank you for allowing me to share my story.
Nikki
Ganz clinic, Austria English information page.
The Ganz clinic offers a specialist tube weaning program. Parents of children between the ages of 0-5 years are very welcome in all cases to contact the clinic directly. If you have a child older than 5 years and you have a very specifically defined diagnostic question, you are also welcome to directly contact the clinic. For further details and contact information please view the Ganz clinic web site.
www.Kinderpsychosomatik.at
Written by: Nicky (LWR member)